Table of Contents
This blog post will provide information about Windows 11 version numbers, build, and Release information. Microsoft releases a major feature update once every year, usually in the second half of the Calendar year.
When a new feature update is released, Microsoft will provide support for it for 24 months when Windows Edition is Home, Pro, or Pro for Workstations and Pro Education editions. For Enterprise and Education editions, 36 months of support is provided.
| | |
| --- | --- |
| Windows 11 Edition | Support |
| Home, Pro, Pro for Workstations, and Pro Education editions | 24 months |
| Enterprise and Education editions | 36 months |
Microsoft has released two major feature packs for Windows 11 so far which are 21H2 released on 04-Oct-2021 and Windows 11 22H2 released on 20-Sept-2022. The next major feature update for Windows 11 devices will be 23H2, which will be released by the end of 2023.
Windows 23H2 will bring a lot of exciting features and bug fixes, Some of the new features are:
Windows Copilot
Re-designed File Explorer
Native Support for 7-zip and RAR files
Dark mode for Paint application
Ungroup Taskbar Icons option under Taskbar settings
Power automate for desktop pre-installed with 23H2
Windows Terminal App
Hope you are excited about these features, some of them are really useful like 7-zip and RAR support as you don't have to Install third-party software for compressing files and folders.
Some organizations may prefer to keep Windows Copilot disabled, here's a step-by-step guide on how you can disable it and also by using Intune. If you want to check out some of these features right now, then you can Install Windows 11 22H2 Moments Update 4.
How to find Build version Information of Windows 11?
There are multiple ways to find Build version information on a Windows 11 device. A build version number is assigned whenever a new feature update is released. Please find below table which shows Windows 11 feature updates and their build Information.
Microsoft update's Windows build's regularly with quality updates and minor non-security updates. Therefore, you will usually see build number followed by a build revision number. For example: <Build number>.<revision number>. Latest Microsoft Windows 11 build number is 22621.2361.

Windows 11 Build Version and Revision numbers
Feature Update
Build number
Release date
End-of-service date
(Home, Pro, Pro Education, Pro for Workstations)
End-of-service date
(Enterprise, Education, IoT Enterprise, and Enterprise multi-session)
Windows 11 22H2
22621
20-Sept-2022
08-Oct-2024
04-Oct-2025
Windows 11 21H2
22000
04-Oct-2021
10-Oct-2023
08-oct-2024
To find current build Information on your Windows 11 device, you can follow below steps:
Press Windows + R to open Run dialog box.
Type winver and press enter.
A pop-up will open to provide Information about Windows 11 current version, OS build, and revision number installed on your device. As you can see from below screenshot which is taken from a Windows 11 device, 22H2 feature update is installed on the device with Build number 22621 and Revision number 2361.
Below screenshot also shows the Windows 11 Edition installed on your device. On this device, Windows 11 Enterprise is installed which also shows on winver pop-up.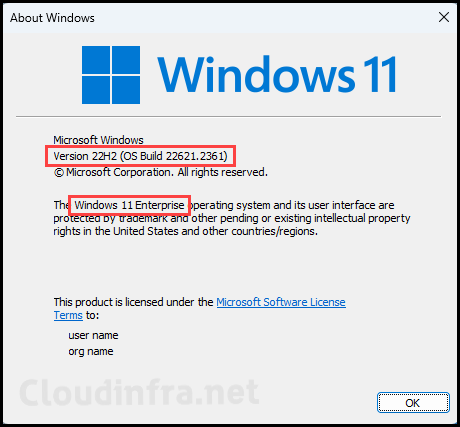 Identify Windows 11 Major Minor Build and Revision numbers
When you check Windows 11 Operating System version with build and revision information, you may come across a format like this: 10.0.22621.2361. Let's break it down to find what it means. Major version is 10, Minor version is 0, Build is 22621 and Revision is 2361.
As we know 22621 Build is for Windows 11 22H2 feature update. If you are using Windows 11 22H2, the build number for you would be 22621, but you may not have the same revision number. Revision number changes as you update the operating system.

How to find Windows version using Powershell console
You can find Windows major/minor/build/Rev information using Powershell. Execute below command on a Powershell console, you do not need to be an administrator to run this command.
[System.Environment]::OSVersion.Version

How to find Windows Build version Information using Registry?
You can find Windows 11 current build version Installed on your device by using HKEY_LOCAL_MACHINE\SOFTWARE\Microsoft\Windows NT\CurrentVersion registry key. Look for registry entry CurrentBuildNumber for Current build information.
Below screenshot shows current build number is 22621 which is for Windows 11 22H2. If you check CompositionEditionID or EditionID , you will find the Installed Edition of your Windows 11 device as well.

Windows 11 Build numbers and release history Information
I have provided Windows 11 release history and version Information along with Build numbers, release date and KB article. First feature update of Windows 11 was 21H2 build number 22000.194, it was released on 04-Oct-2021.
Windows 11 Version
Build number
KB Article
Release date
Windows 11 22H2
(22621.2506)
22621.2506
KB5031455
26-Oct-2023
Windows 11 22H2
(22621.2428)
22621.2428
KB5031354
10-Oct-2023
Windows 11 22H2
(22621.2361)
22621.2361

KB5030310
26-Sept-2023
Windows 11 22H2
(22621.2283)
22621.2283
KB5030219
12-Sept-2023
Windows 11 22H2
(22621.2215)
22621.2215
KB5029351
22-Aug-2023
Windows 11 22H2
(22621.2134)

22621.2134

KB5029263
08-Aug-2023
Windows 11 22H2
(22621.2070)
22621.2070
KB5028254
26-July-2023
Windows 11 22H2
(22621.1992)
22621.1992
KB5028185
11-July-2023
Windows 11 22H2
(22621.1928)
22621.1928
KB5027303
27-Jun-2023
Windows 11 22H2
(22621.1848)
22621.1848
KB5027231
13-Jun-2023
Windows 11 22H2
(22621.1778)
22621.1778
KB5026446
24-May-2023
Windows 11 22H2
(22621.1702)
22621.1702
KB5026372
09-May-2023
Windows 11 22H2
(22621.1635)
22621.1635
KB5025305
25-April-2023
Windows 11 22H2
(22621.1555)
22621.1555
KB5025239
11-April-2023
Windows 11 22H2
(22621.1485)
22621.1485
KB5023778
28-Mar-2023
Windows 11 22H2
(22621.1413)
22621.1413
KB5023706
14-Mar-2023
Windows 11 22H2
(22621.1344)
22621.1344
KB5022913
28-Feb-2023
Windows 11 22H2
(22621.1265)
22621.1265
KB5022845
14-Feb-2023
Windows 11 22H2
(22621.1194)
22621.1194
KB5022360

26-Jan-2023

Windows 11 22H2
(22621.1105)
22621.1105
KB5022303
10-Jan-2023
Windows 11 22H2
(22621.963)
22621.963
KB5021255
13-Dec-2022
Windows 11 22H2
(22621.900)
22621.900
KB5020044
29-Nov-2022
Windows 11 22H2
(22621.819)
22621.819
KB5019980
08-Nov-2022
Windows 11 22H2
(22621.755)
22621.755
KB5018496
25-Oct-2022
Windows 11 22H2
(22621.675)
22621.675
KB5019509
18-Oct-2022
Windows 11 22H2
(22621.674)
22621.674
KB5018427
11-Oct-2022
Windows 11 22H2
(22621.608)
22621.608
KB5017389
30-Sept-2022
Windows 11 22H2
(22621.525)
22621.525
KB5019311
27-Sept-2022
Windows 11 22H2
(22621.521)
22621.521
KB5017321
20-Sept-2022