In this blog post, we'll see how to disable Microsoft Edge Workspaces through the Intune admin center. Microsoft Edge Workspaces lets users create and share groups of browser tabs for different tasks or purposes.
Users can create Edge workspaces to neatly arrange open tabs for various projects. When it's time to work on a project, they can effortlessly access the Edge workspace, where all the information is conveniently organized in one place.
Table of Contents
Prerequisites for using Microsoft Edge Workspace
Microsoft Entra admin center tenant
Edge version 114 or later
Users must have One Drive for a business license to create Edge workspace.
For additional information on Microsoft Edge Workspaces, please visit this link: Microsoft Edge Workspaces.
Where I can find Edge Workspace Icon in the browser?
You can locate the Microsoft Edge Workspace icon at the top-left corner, as shown in the screenshot below: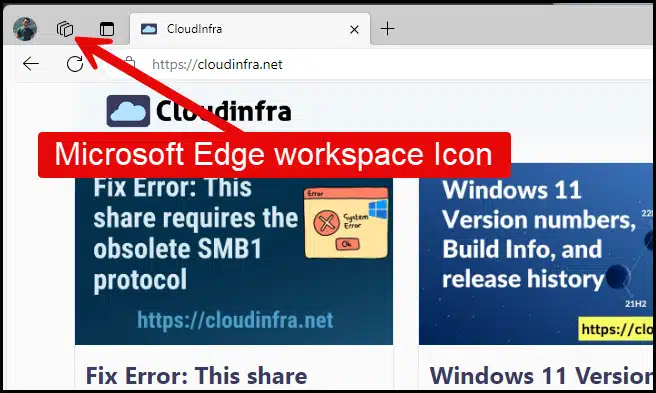 STEP 1 – Create a Device Configuration Profile
To disable Edge workspace using Intune, you can follow these steps:
Login on Microsoft Intune admin center
Click on Devices > Configuration profiles
Click on + Create profile
Platform: Windows 10 and later
Profile type: Settings Catalog
Basics Tab
Provide a Name and Description of the Policy to Identify it on Intune admin center.
Name: Disable Edge Workspace on Windows 10/11
Description: This device configuration profile will disable Microsoft Edge workspace on targeted users/devices.
Configuration settings
Click on + Add settings and then search for "Edge Workspace" in the settings picker. Select Microsoft Edge Workspaces settings and then select "Enable Workspaces" setting to add under Configuration settings page.
Keep the setting at disabled state and proceed to the next step.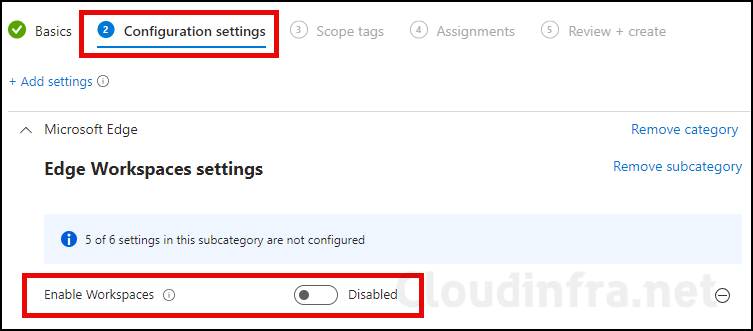 Assignments
Create an Azure AD Security group that contains users or devices where this device configuration profile needs to be deployed. If you prefer a more controlled deployment to specific devices only, then make sure to target only devices via Azure AD group. Once your testing is successful and you want to deploy this profile on all Organization devices, you can click on + Add all devices.
Review + Create
On Review + Create tab, review the device configuration profile details and click on Create.
Sync Intune Policies
The device check-in process might not begin immediately. If you're testing this policy on a test device, you can manually kickstart Intune sync either from the device itself or remotely through the Intune admin center.
Alternatively, you can use PowerShell to force the Intune sync on Windows devices. Another way to trigger the Intune device check-in process is by restarting the device.
STEP 2 – Monitoring Deployment Progress
To monitor the deployment progress of a Device configuration profile, follow below steps:
Sign in to the Microsoft Intune admin center.
Click on "Devices" and then select "Configuration profiles"
Choose the Device Configuration profile you want to work with, and at the top of the page, you'll see a quick view of the Success, Failure, Conflict, Not Applicable, and In Progress status.
Click on "View report" to access more detailed information.
End-user Experience
Once the policy settings are successfully applied to the target users/devices, the Workspace Icon in the Edge toolbar will disappear. Please note that users won't be able to re-enable the Workspace since this setting will be controlled through the Intune admin center.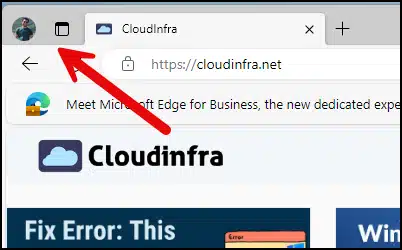 How to manually hide Microsoft Edge Workspace Icon?
Edge Workspace Icon will show by default on the toolbar of the browser. You can simply hide it by right-clicking on the Icon and selecting "Hide from toolbar".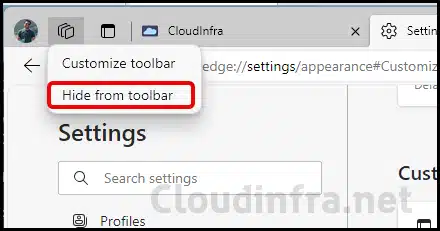 To re-enable the Workspace Icon, you can follow these steps:
Type "edge://settings/appearance#CustomizeToolbar" in the Edge address bar and press Enter.
Scroll down the page to find "Show Workspaces."
Use the toggle switch to enable it again.

This will bring back the Workspace Icon to your toolbar.
FAQs
How to disable Microsoft Edge Workspace using Registry?
You can create a registry key called Edge and under HKEY_LOCAL_MACHINE\SOFTWARE\Policies\Microsoft\ key, create a DWORD registry entry under Edge key called EdgeWorkspacesEnabled. Set its value to 0 to disable Edge workspace.
As the registry entry is being created under HKEY_LOCAL_MACHINE node, it will affect all uses on that device. A restart of the device will be required to complete this process.
How to disable Edge Workspace using GPO?
You can login on the domain controller > Open Group Policy Management Console and follow below steps:
– Create a New Group Policy Object, you can name it as "Disable Edge Workspaces"
– Navigate to Computer Configuration > Policies > Administrative Templates > Microsoft Edge > Edge Workspaces Settings.
– On Right-hand side you will find "Enable Workspaces" setting. Right-click on it and select Edit.
– Select Disabled radio button to Disable Edge Workspaces.
[Now, you can Link this GPO to either an OU containing Computers or Link it directly to domain level]