Table of Contents
Windows Snipping Tool is an integrated utility found in Microsoft Windows 10/11 operating systems, designed for users to conveniently capture screenshots or snips of their desktop or specific screen areas.
This screen capture tool proves invaluable for swiftly grabbing crucial information displayed on the desktop. Moreover, it offers different methods for capturing images to suit your preferences.
The Windows Snipping Tool has evolved over the years, introducing a variety of new and exciting features such as delayed screenshot capture and video snipping. However, there are numerous third-party screen capture tools available that offer more advanced capabilities for capturing screenshots and videos, with TechSmith's Snagit and Greenshot as a few examples.
You can easily Remove/Uninstall Snipping tool from your Windows 10/11 device but instead of removing the tool, you could also disable it so that users cannot launch the tool and get below error instead. In this blog post, we will see multiple ways to disable Snipping tool on Windows 10/11 devices.
Windows cannot open this program because it has been prevented by a software restriction policy. For more information, please contact your system administrator.
In recent blog posts, I have created step-by-step guide on how to disable Microsoft Edge Workspace and Windows Copilot. You can refer to below URLs to read more more details about it.
Method 1 – Disable Snipping tool Using Applocker
You can easily disable Snipping tool on users devices by creating a deny Applocker rule for the Snipping tool app.
Please note that the rule described below will set up an AppLocker rule for just one device. If you're looking to deploy AppLocker across multiple devices, you can refer to my other blog post How to Implement AppLocker using Intune. This way you could deny Snipping tool across all devices in your organization.
Press Windows + R to open Run dialog box.
Type secpol.msc and press Enter to open Local Security Policy console.
Go to Application Control Policies > Packaged app Rules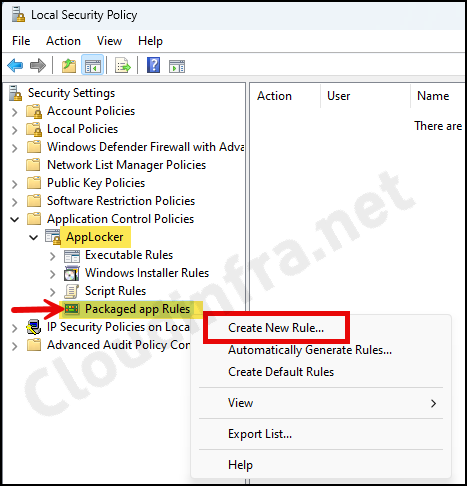 Click on Next on Before you begin screen.
On Permissions screen, Select Action = Deny and User or group = Everyone to deny launching of Snipping tool for anyone who will sign in on this computer.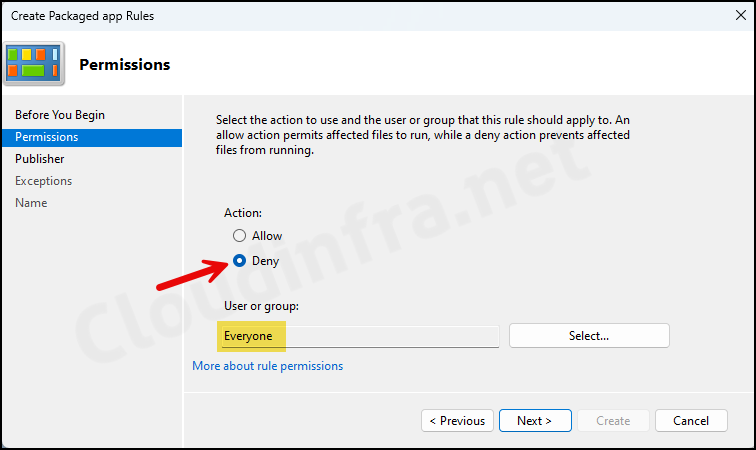 Select the radio button "Use an installed packaged app as a reference" and click on Select button.
Select Snipping Tool from the list of apps and then press OK button to continue.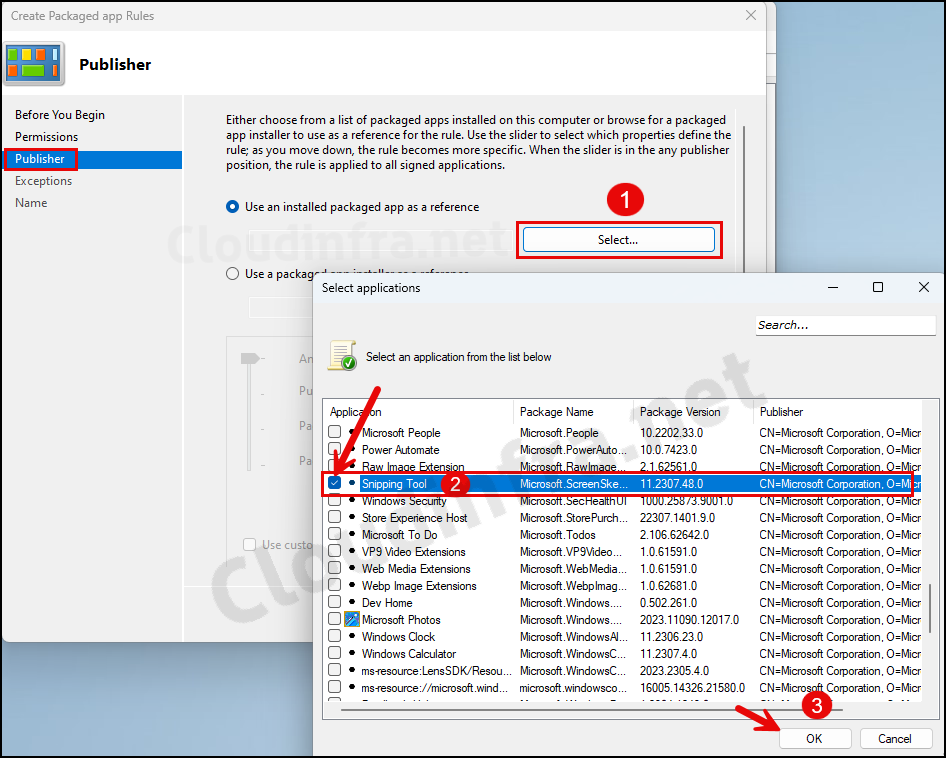 As you can see in below screenshot, Snipping Tool application information is extracted automatically. Move the slider one step up to generalize the application version. Click on Next to proceed.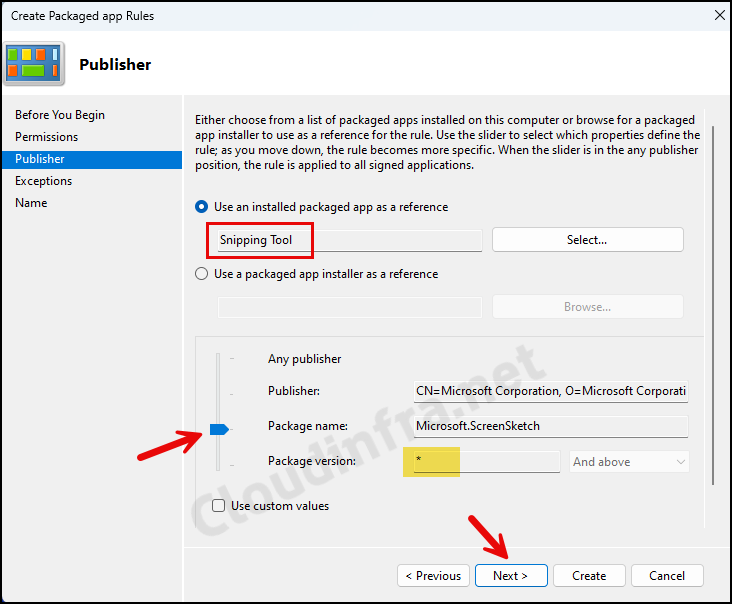 On Exceptions screen, Click on Next button.
On Name screen, You can keep the default Name or provide a new name for the rule. I would be keeping the default name for now.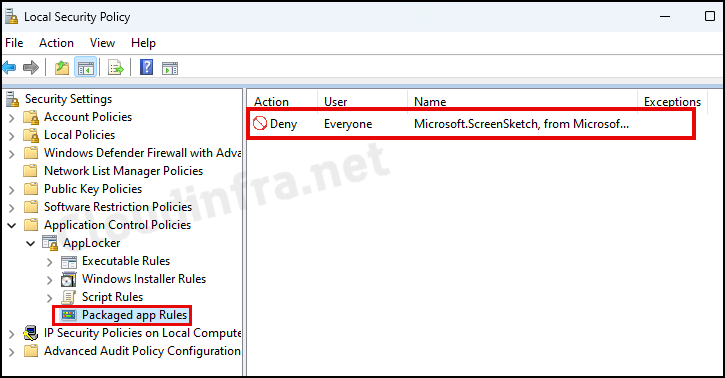 End-User Experience
We've created a Deny rule specifically for the Snipping Tool application. When creating this rule, we also made it applicable to all versions of the Snipping Tool app. This means that regardless of any future upgrades to the app, the Applocker Deny rule will continue to be enforced.
When a user will launch Snipping tool on the device, below pop-up message will be shown. "This app has been blocked by your system administrator. Contact your system administrator for more info.".

Method 2 – Disable Snipping tool Using Intune
If you are managing Windows 10/11 devices using Microsoft Intune. Then you can simply create a device configuration profile and use Settings Catalog policy setting: "Do not allow Snipping Tool to run". Deploy this setting on Windows devices via an Azure AD group.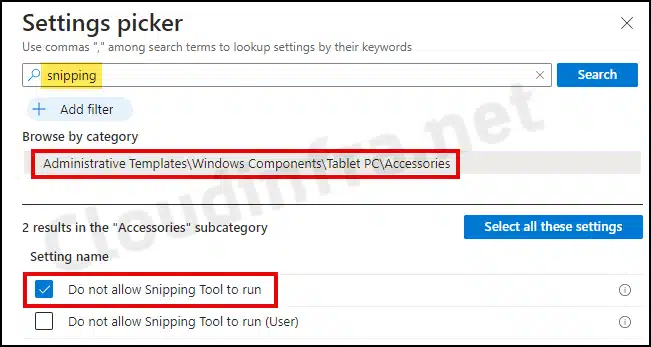 After you select the policy setting, it will be added on Configuration settings page. Use the toggle switch to Enable this policy. When you Enable this policy setting, it will disable Snipping tool on the target devices.
Method 3 – Disable Snipping tool Using Group Policy
If you manage Windows 10/11 devices using On-prem Active Directory or Hybrid Azure AD, you can use a Group Policy Object (GPO) to stop the Snipping Tool from running on those devices. Let's see how to do it:
If your device is not managed by Active directory and is a part of Workgroup instead. You can also open Local group policy editor (gpedit.msc) on your Windows 10/11 device. The steps for Local group policy editor and Active directory group policy management console (gpmc.msc) will remain the same.

Note
Press Windows + R to open Run dialog box.
Type gpedit.msc for opening Local group policy editor. If you are creating this policy on an Active directory domain controller, you can open the Group policy management console using gpmc.msc.
Go to Computer Configuration -> Administrative Templates -> Windows Components -> Tablet PC -> Accessories. On right-hand side, Find the policy setting "Do not allow Snipping Tool to run".
Double-click the policy setting Do not allow Snipping Tool to run and Set it to Enabled.
Link this GPO to an OU containing computers.
Please note that a restart of the target device will be necessary for the policy changes to become active.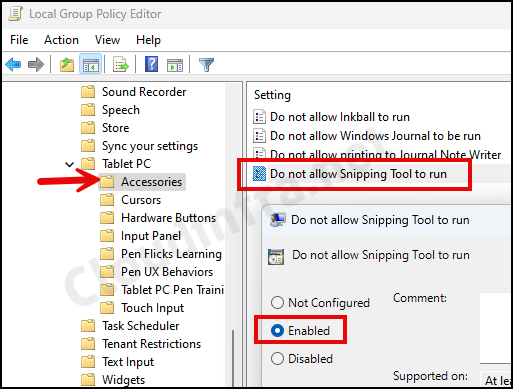 FAQs
I want to Remove/Uninstall Snipping tool Instead of disabling it.
Snipping tool is already disabled on my device, How to Enable it?
If you've disabled the Snipping Tool on your device in the past and wish to re-enable it, you'll need to reverse the changes that blocked the Snipping Tool.
These changes could have been implemented through Intune, group policy settings, or manual configurations. In such cases, you might need to reach out to your IT administrator for assistance.
If you want to re-install Snipping tool, then this step-by-step guide will help you getting back Snipping tool on your device. 3 Ways to Remove/Uninstall Snipping Tool in Windows 11. Refer to the blog section "How to get Snipping tool back after Uninstalling it?