Table of Contents
In this blog post, we will learn about resolving Error code 0xC004C020 that you may get during Windows Activation. This error code may appear on Windows 10, Windows 11, and also on Windows Server Operating systems, For example: Windows Server 2016, Windows Server 2019, and Windows Server 2022.
If you don't activate Windows, you may encounter periodic reminders to activate, experience limitations in personalization options, miss out on security updates, lose access to Microsoft support, and face restrictions on some features.
Below is the exact error message you will see on the screen. There are multiple methods to fix this issue; however, the most common solution is ensuring that 1) the Product key is valid and 2) the Product Key usage limit is not crossed.
Exact Error Message for 0xC004C020
We can't activate Windows on this device because the product key was already used on another device. If you think it wasn't used on another device, select Troubleshoot below. Error code: 0xC004C020.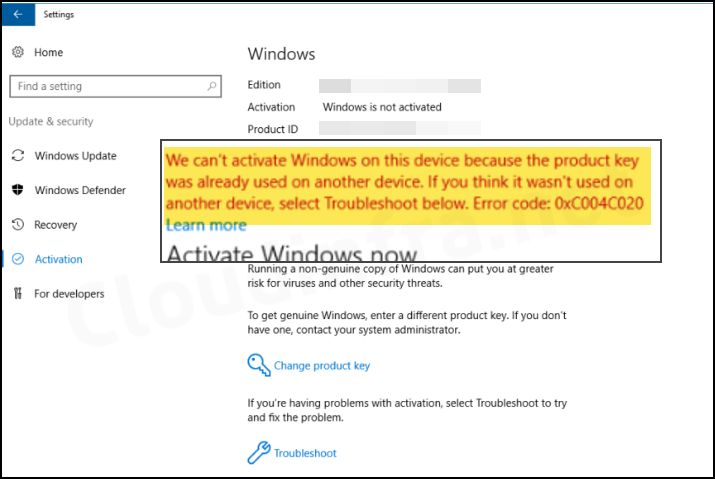 Causes of Error Code 0xC004C020
There could be several reasons why you are encountering this generic error code while activating a copy of the Windows 10/11 OS. Before we learn about the causes, you must know about the "MAK key".
MAK or Multiple Activation key is provided to activate your Windows devices a specified number of times. MAK activates Windows on a one-time basis, using Microsoft-hosted activation services.
MAK Exceeds Activation limit – By design MAK key can be used for a limited number of times, It may have crossed the limit, that's why you are getting this error. Request more Windows activations on this MAK key by contacting Microsoft or request a new one.
Invalid Product Activation Key – If you are using an Incorrect Product Key, This could also result in error code 0xC004C020. Confirm with the vendor from where you have purchased this key to make sure that it's still valid and working.
Incorrect Product – It could be possible that your MAK key is valid, but you are using it on a different product. For example, you may have purchased an MAK key for the Windows Server 2022 product and may be applying it to a Windows 11 device.
Not a MAK key – If it's not an MAK key, then this could also result in a Windows Activation error. Contact your software vendor or Microsoft directly to check and confirm if the Product key is correct.
Windows Insider Preview – This error can also appear when trying to activate the Windows Insider build / Preview version.
Step 1 – Request more Activations on the MAK key
The first step is to contact Microsoft or the software vendor from whom you purchased the Windows MAK key for a specific product you are attempting to activate. Inform them that the MAK limit has been reached, and request to add more licenses to it or obtain a new MAK key.
Step 2 – Activate Windows
Once you get the valid MAK key, use any of the below options to Activate your Windows device.
Go to Settings App and update the Product Key
Using Command Prompt.
Using Windows Activation troubleshooter.
Option 1 – Update MAK key using Settings App
To update your MAK key using Settings App on a Windows device, follow the below steps:
Press Windows key + I to open Settings App.
Click on System > Activation.
Click on the Change button and then Enter the valid Product key in the Product Key box. Click on Next to proceed. That's it, you have applied the new and valid product Key on your device.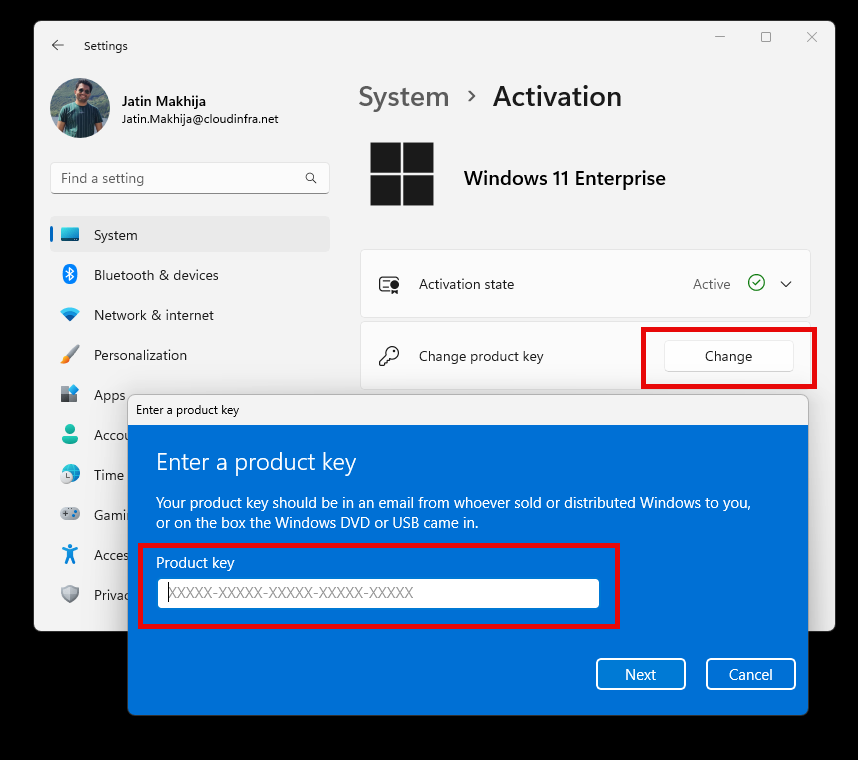 Option 2 – Activate Windows OS using Command Prompt
To activate Windows OS using a command prompt, you will need to follow below steps:
Press the Windows key + R to open the Run dialog box.
Type cmd and press Enter.
Run the command slmgr.vbs /ipk [product key] to activate your Windows device.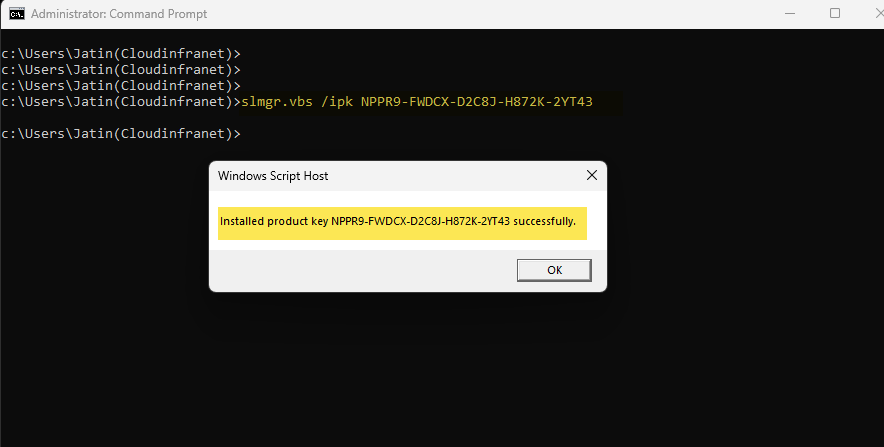 Option 3 – Use Windows Activation Troubleshooter
There is a built-in Windows Activation troubleshooter available to address any activation-related issues on your computer. Please note that you will need administrator rights to run the Windows Activation Troubleshooter.
To open Windows Activation Troubleshooter, follow the below steps:
Press Windows + I to open the Settings App.
Go to System > Activation and click on the Troubleshoot button.
Please note: Troubleshoot button will only be available when your Windows 10 or Windows 11 OS is not activated. It will check if you have provided a correct product key and help you fix this particular error message.
Hope that the steps provided in this blog post will help you resolve Windows Activation Error 0xC004C020.