When you are troubleshooting an issue with Microsoft Office or Microsoft 365 apps for Enterprises, you may want to completly Uninstall all the Microsoft Office products and removes all traces of it from your device. You can either go to the Control Panel -> Programs and Features to uninstall or use Uninstall Support Tool which we will discussed about in this blog post.
Uninstall Support Tool provided by Microsoft is better in removing all the traces of Microsoft Office / Microsoft 365 apps for enterprises. I will use the term Microsoft Office and Microsoft 365 apps for Enterprises interchangeably as both the products are essentially the same except Microsoft 365 apps for Enterprise is a subscription based Microsoft Office service. This tool will work on Microsoft Office products as well as Microsoft 365 apps for enterprises.
Please note to be able to use this tool on your device, you will require administrator rights. So please make sure you are local administrator otherwise it will not work.
Related Useful Articles which may also help:
Download and Install Office Uninstall Support tool
First you need to download the tool from Microsoft Support Website. Once you click on Download button, it will download a file called SetupProd_OffScrub.exe.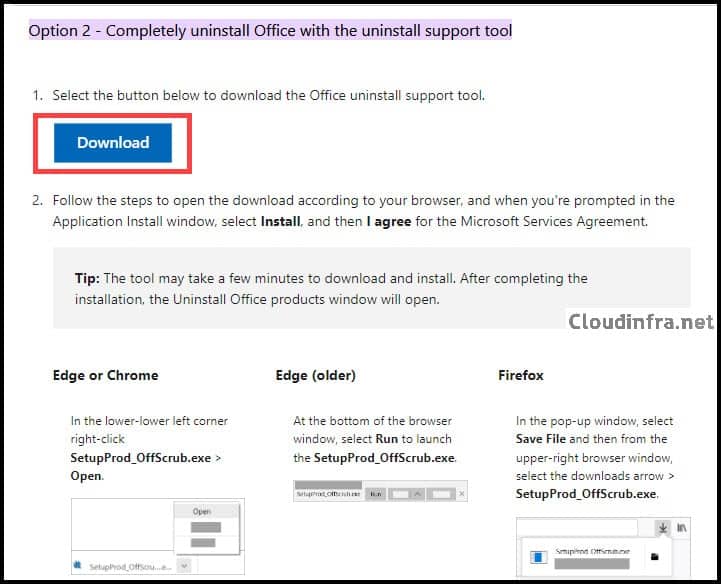 Right click on the downloaded file SetupProd_OffScrub.exe and then click on Run as administrator to launch the file in administrator context.

Do you want to allow this app to make changes to your device ? Yes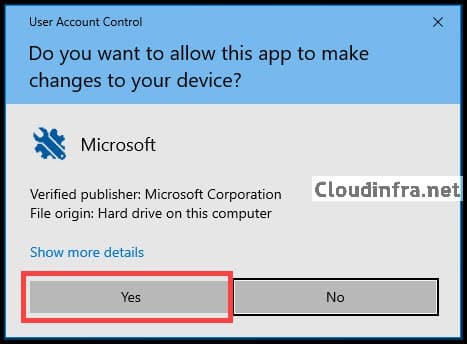 After you click on Yes, application will launch and Verify application requirements.

On the Application Install window, click on Install to proceed.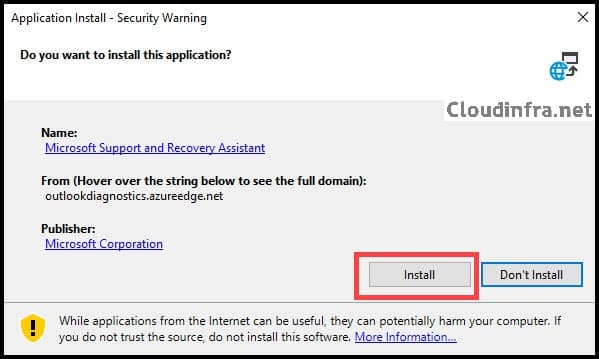 Installation in Progress…
Click on I agree on Microsoft Services Agreement for Microsoft Support and Recovery Assitant.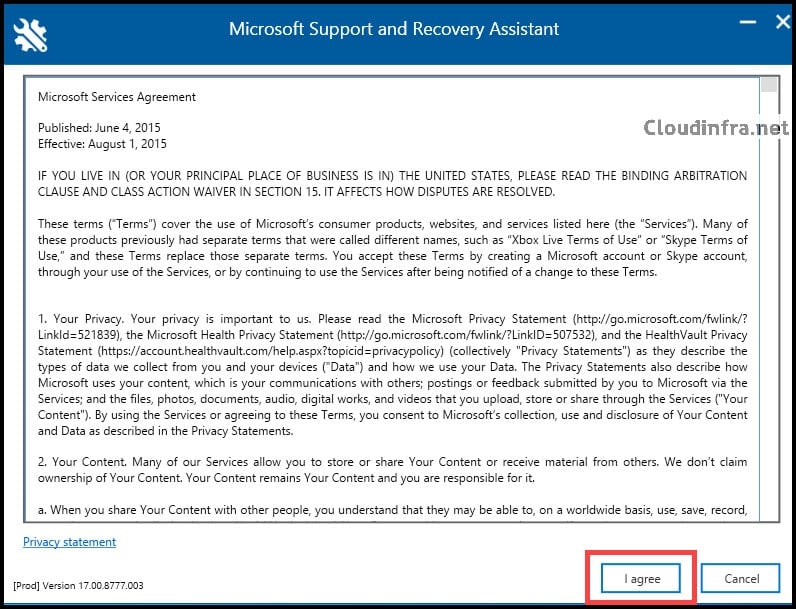 Next screen will show, Troubleshooting the Issue which will scan your device to find Microsoft Office application installed on your device.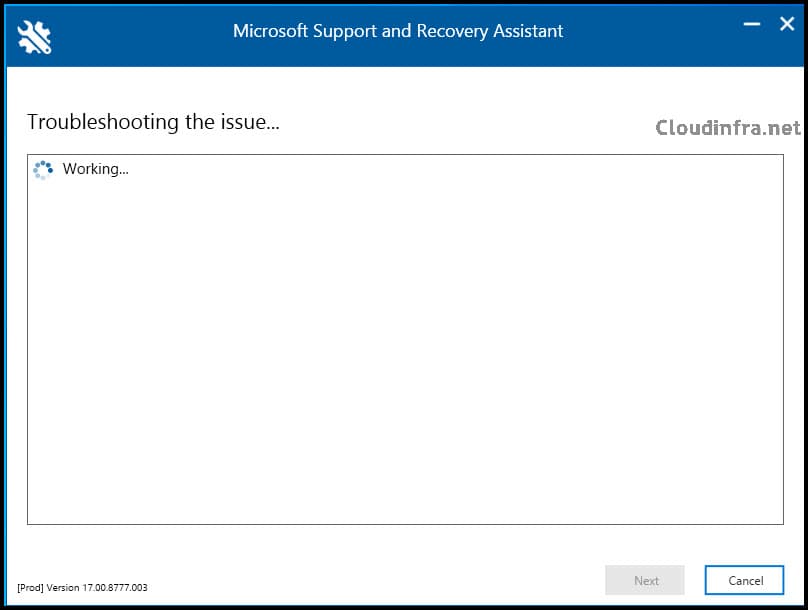 After a scan of your system is completed, it will list all the Microsoft Office Applications found on your device. In my computer, I was using Microsoft 365 Apps for enterprise which has an application type of Click to Run. Select this application and click on Next to proceed with the removal process.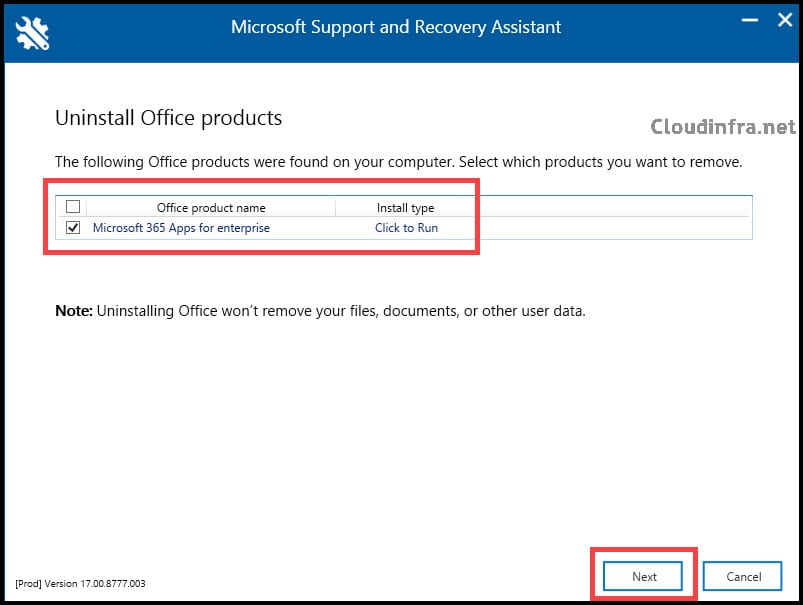 Please note that a restart of your system will be required to complete the uninstallation process. Please save all your work, close all the office related applications and stop any other running software / applications. Once you are ready then select the checkbox "I have saved all my work, closed open Office applications and stopped any other setup program.". Click on Next to Proceed.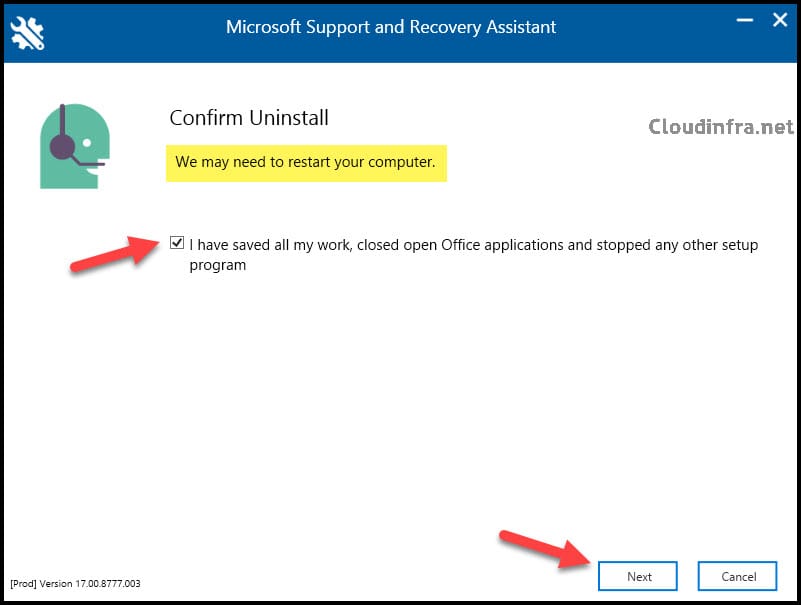 As you can see from below screenshot, It detected the application Microsoft 365 Apps for enterprise and Uninstalling it. After Uninstall of the application, it will clean up the remaining files / registry keys. Please note that this whole process could take some time to complete. In my case it took around 20 minutes to complete Uninstallation including clean up process.
On the next screen it says Restart your computer. Click on Restart to proceed.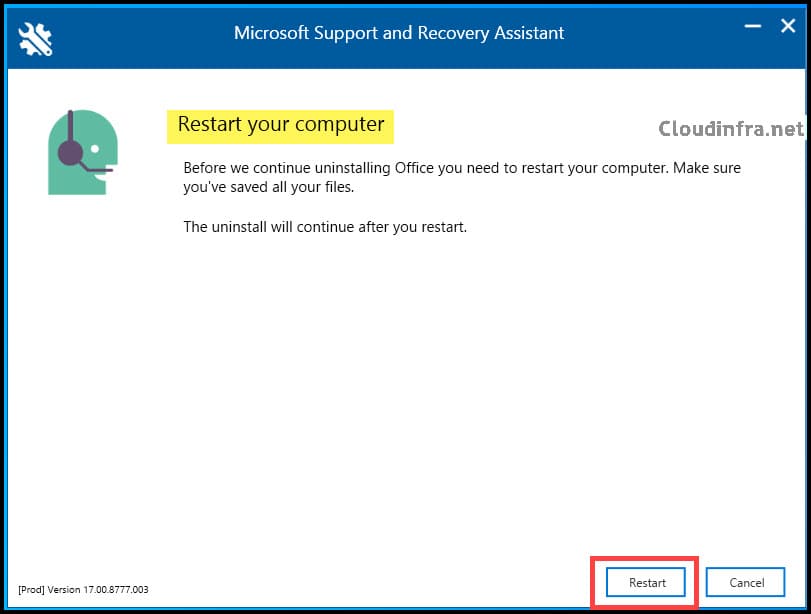 Restarting the computer…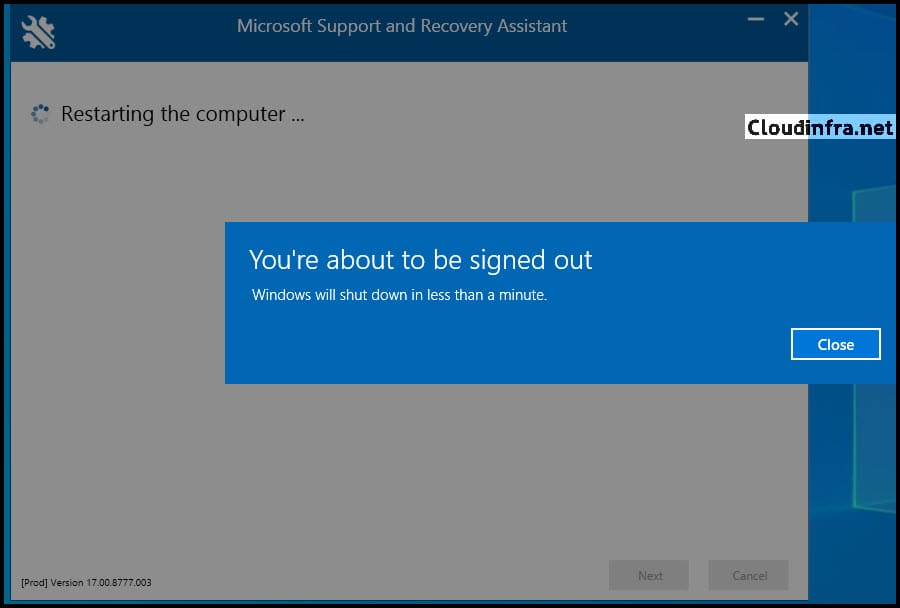 After restart, the setup will resume and will show below screen, click on No to exit out of the Microsoft Support and Recovery assistant. You can also click on Yes, but it will take you through couple of pop-ups and authentication process and eventually will show Office 365 ProPlus screen which eventually will install Microsoft 365 apps for enterprise.
To speed up the process, we will not click on Yes and download Microsoft 365 apps for enterprise directly from https://portal.office.com and then install it ourselves. In the last section of this blog post, I have shown the installation steps as well.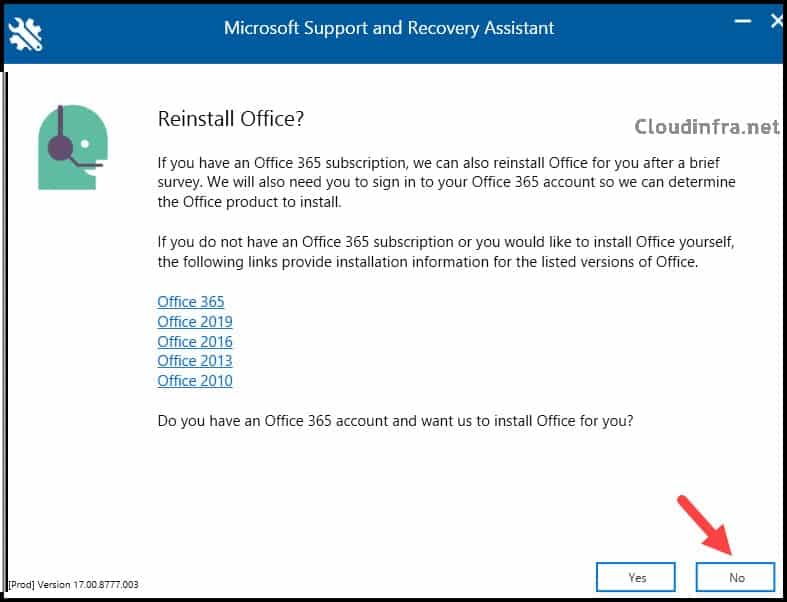 If you want, you can leave the rating and click on Submit.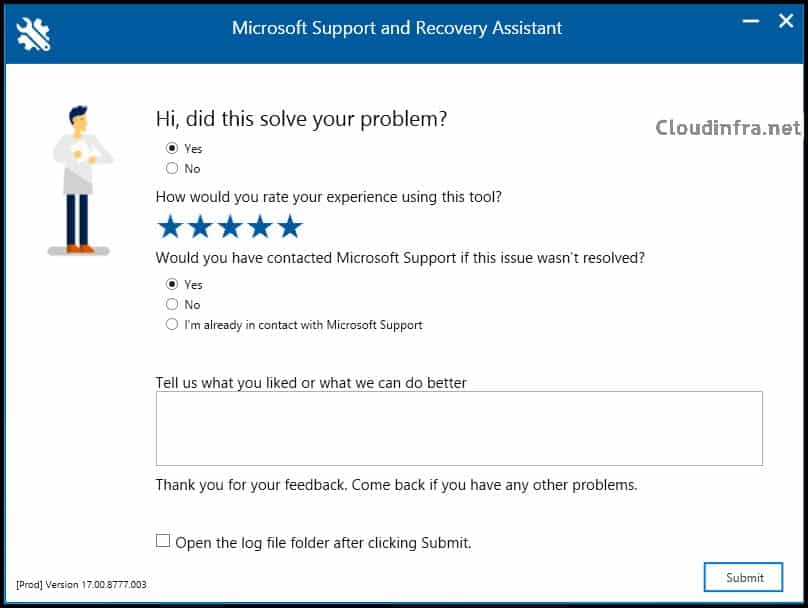 How do I download and Install Microsoft 365 apps for Enterprise
Now that office is completely removed from your device, you can perform a fresh install and check if the issues which you had previously are now resolved. Please follow below steps to Install Microsoft 365 apps for Enterprise:
Login on Microsoft Office Portal.
On Right hand side on the home page you will find a drop down button called Install Office. Click on the drop down and select Office 365 apps.

This will download a file on your device called OfficeSetup.exe. If you are unable to find this file, generally its downloaded in your Downloads folder location C:\users\<userid>\Downloads or use Quick access to reach to Downloads folder.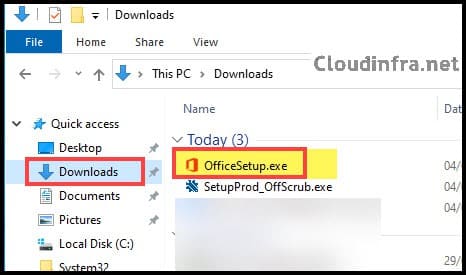 Microsoft 365 Apps for Enterprise Installation Progress.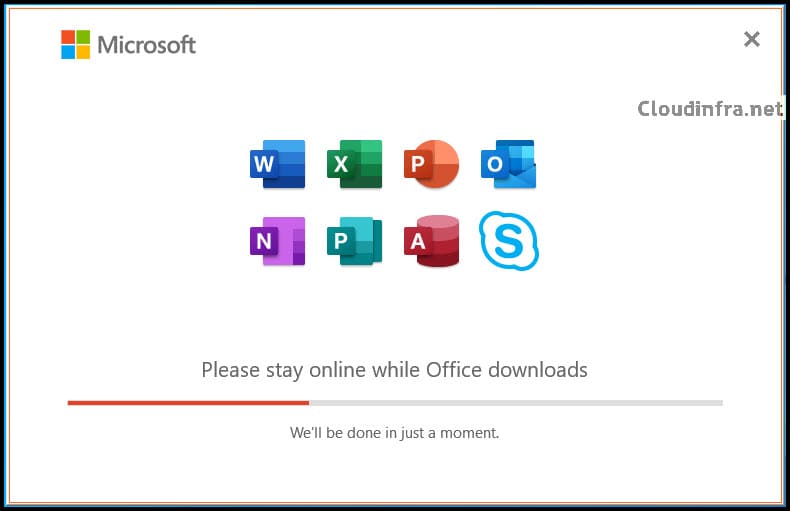 Conclusion
In this blog post, we have seen how to Uninstall Microsoft 365 apps for Enterprise completely using Microsoft provided Uninstall Support Tool / Microsoft Support and Recovery assistant. Using this tool will not only uninstall the application but clean all traces of it including remaining files after installation and registry entries. It helps when troubleshooting issues related to corrupt office installation and you can fix it by re-installing fresh copy of Microsoft Office.