A work profile is setup on an Android device to separate company apps and data from personal apps and data. Personal and work profiles have separate storage areas on Android phone. Therefore, for an IT Admin it makes it easier to manage and secure the data.
Work profile apps are marked with a breifcase icon while personal apps are not maked as breifcase icon to distinguish between your company / IT managed apps vs the apps installed via public Google Play store.
Therefore, you may see duplicate apps on the phone if you already had the same app installed from the public Google Play store. For accessing company data for example sharepoint, onedrive for business, company emails etc. via outlook use the one with breifcase icon on it and when accessing personal data use the apps without breifcase icon on it. We will next see how to setup work profile.
Steps to setup Andoird Work Profile
Provided that IT Admin of your organization has allowed creation of work profile and configured it via Microsoft Endpoint manager admin center. You can follow the instructions in this blog post to setup work profile on the android phone.
Please note the instructions in this article is valid only for Android devices. For IT administrators who want to configure Android device enrollment for Microsoft Intune, follow these links How to configure android enrollment for Microsoft Intune and How to setup Microsoft Intune MAM and MDM configuration.
I will be referring to the Google Play Store app as Managed Google Play Store App and Public Google Play Store App.
The difference between the two is that Managed Google Play store app will have a breifcase icon on it and will only show work apps which are made available by the IT Admin. However, Public Google Play store apps can be used to search and install the apps which are outside organization scope or we can say these will be your personal apps.

Managed Google Play Store: Google Play Store with briefcase icon.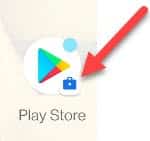 Public Google Play Store: Google Play Store without briefcase icon.


Install Intune Company Portal App on Android Phone using Public Google Play Store. Once the App is intsalled, Open the Company Portal App.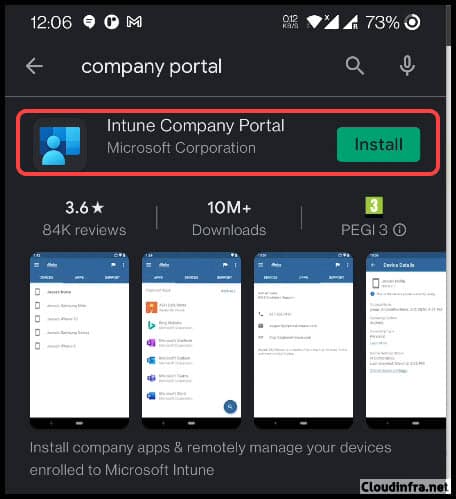 Sign in to Company portal app by clicking on SIGN IN button.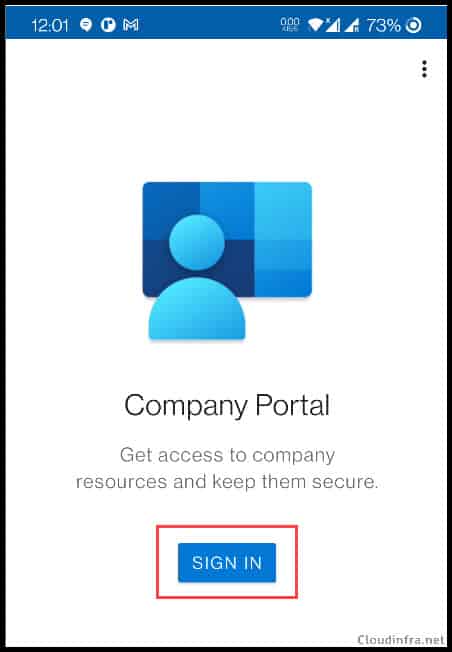 Sign in using your company portal app with your organization email address. If you receive a 2FA prompt, Please Approve it to continue.

Next Screen is for setting up Android work profile. Click on BEGIN to proceed. Please go through the privacy information on this screen and click on CONTINUE.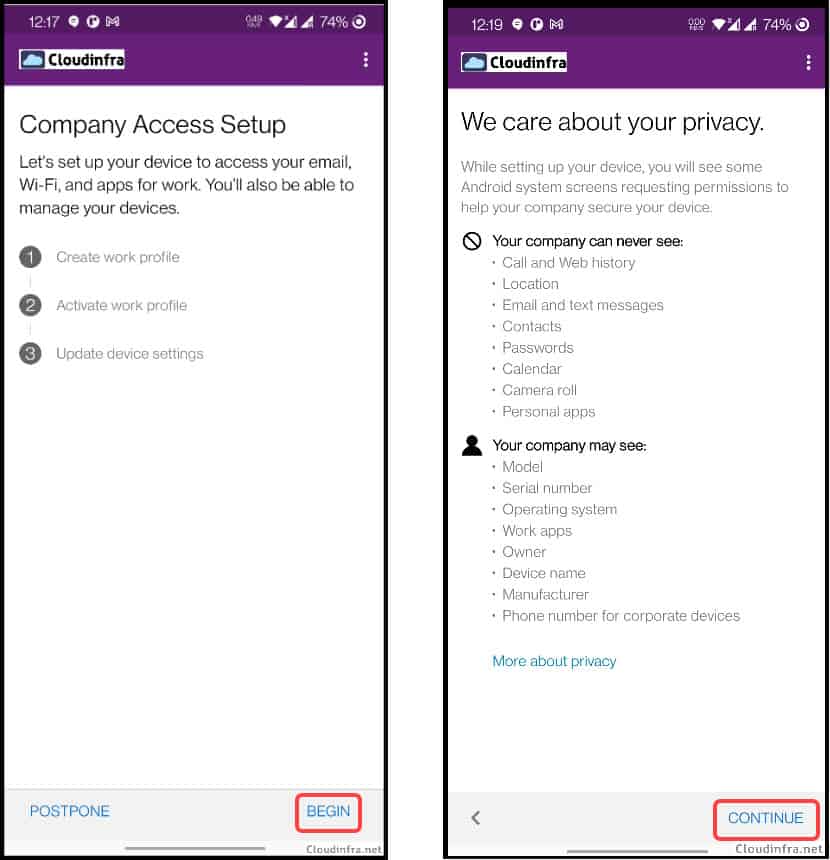 Click on Accept and Continue. This will start the setup process, Click Next to continue.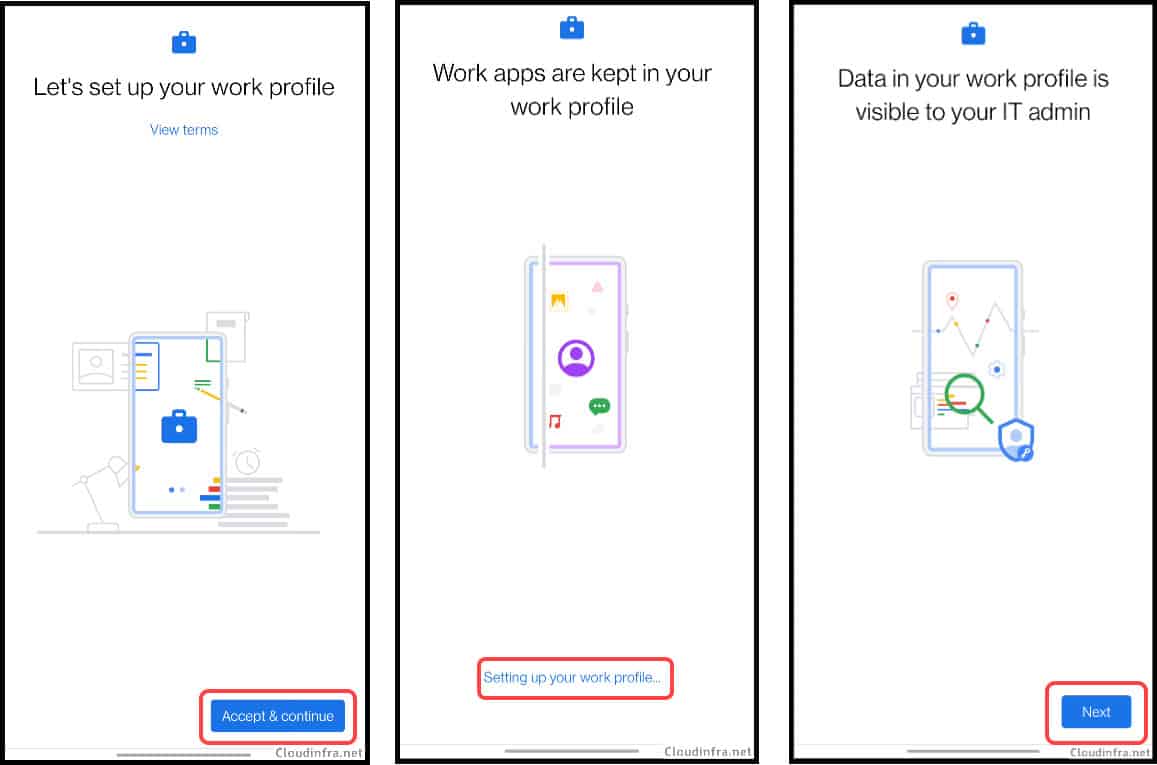 Click on Continue button, it will register your device to Microsoft intune.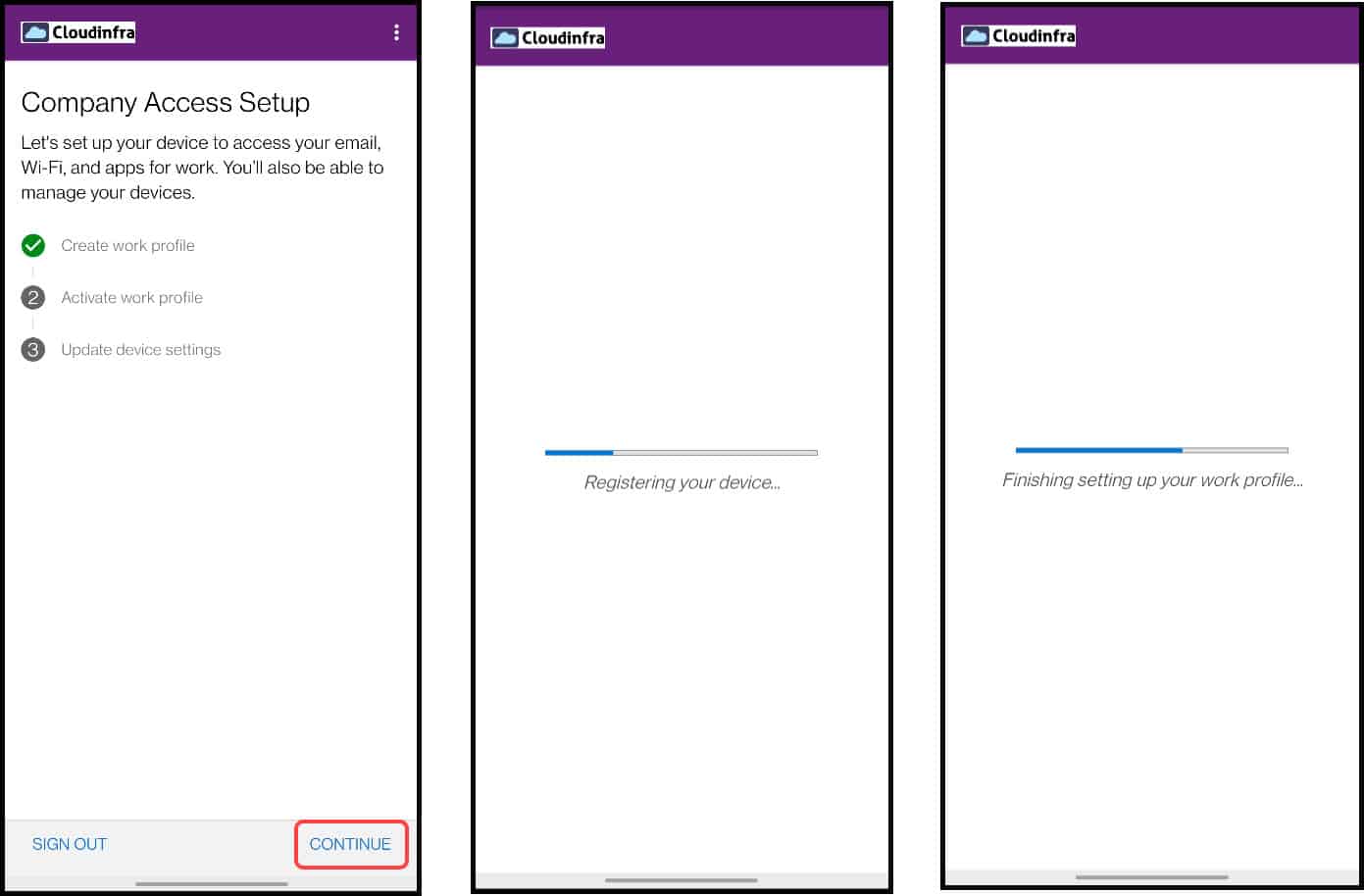 Work Profile setup is completed. Click on DONE and then Click on GOT IT.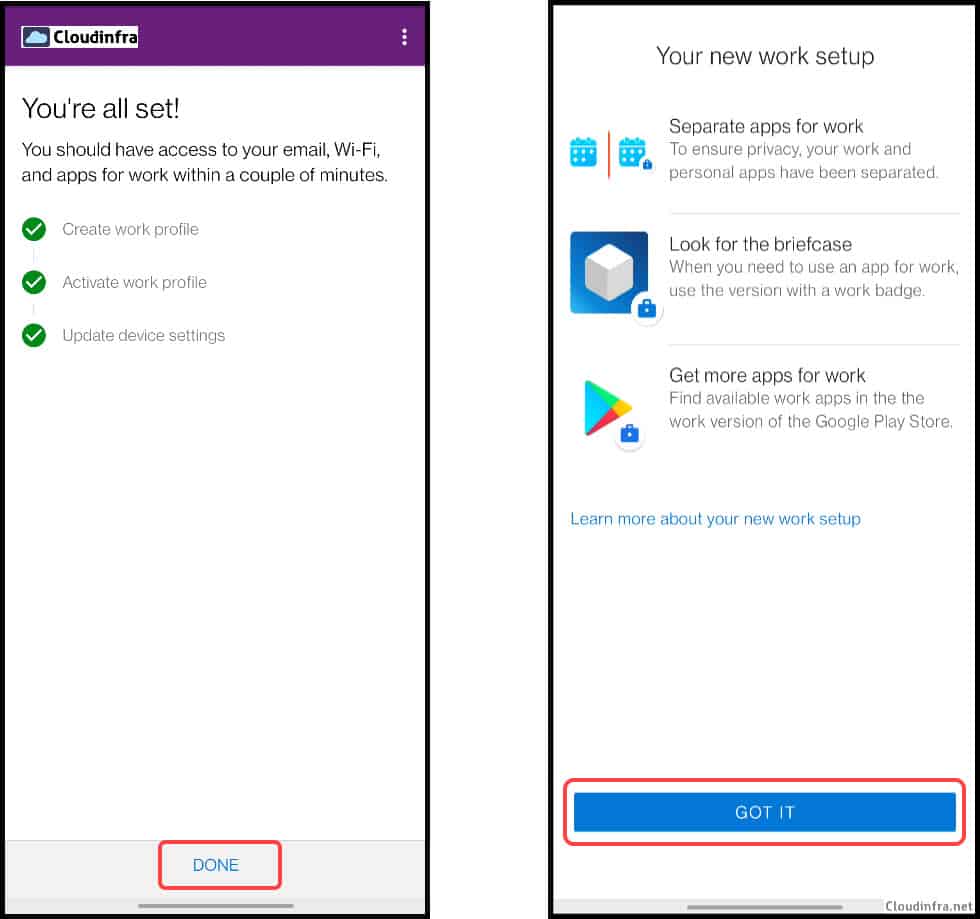 Work Profile for the user has been seutp. click on OPEN, it will launch managed google play store which shows all the available applications to install. Please note all applications which are configued as required by IT Admin will be installed automatically on your phone.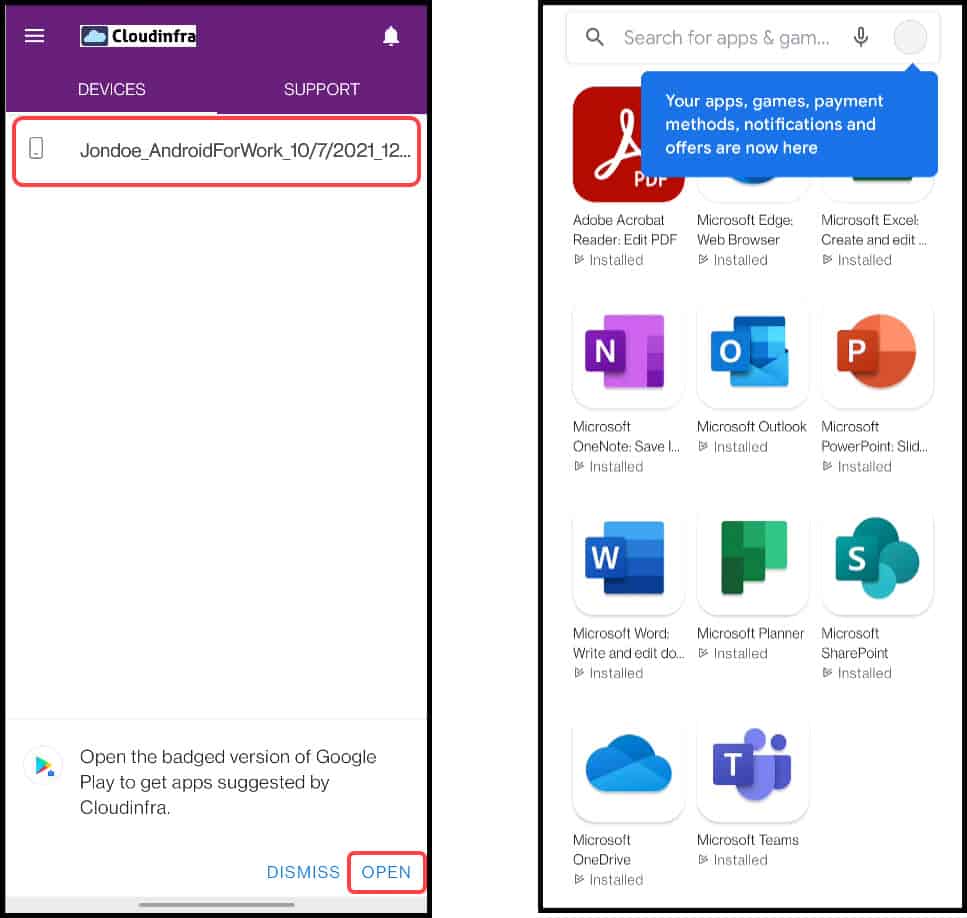 Swipe up on your home page and select Work tab which shows all your company applications.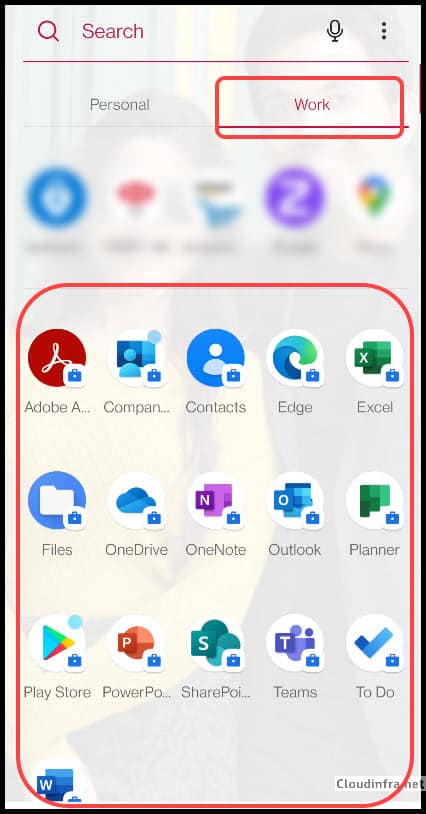 Device Registration
As you have now completed the setup of work profile, during the work profile creation process the device will get registered to Microsoft Intune. IT Admin will be able to manage the device via Microsoft Endpoint Admin Center. Below screenshot shows how the device looks from admin side.
Microsoft Endpoint Admin Center -> Devices -> All devices

Azure Active Directory -> Devices -> All devices

How to pause Work Profile on Android device
There could be a scenario when you do not want to run work apps and get interrupted by notifications generated by work apps. Work apps will also not consume data or battery when its in paused state. To Pause the work profile on your android phone, follow below steps:
Swipe Down on your Android Phone and find the Icon for Work Profile and tap on it to turn it off.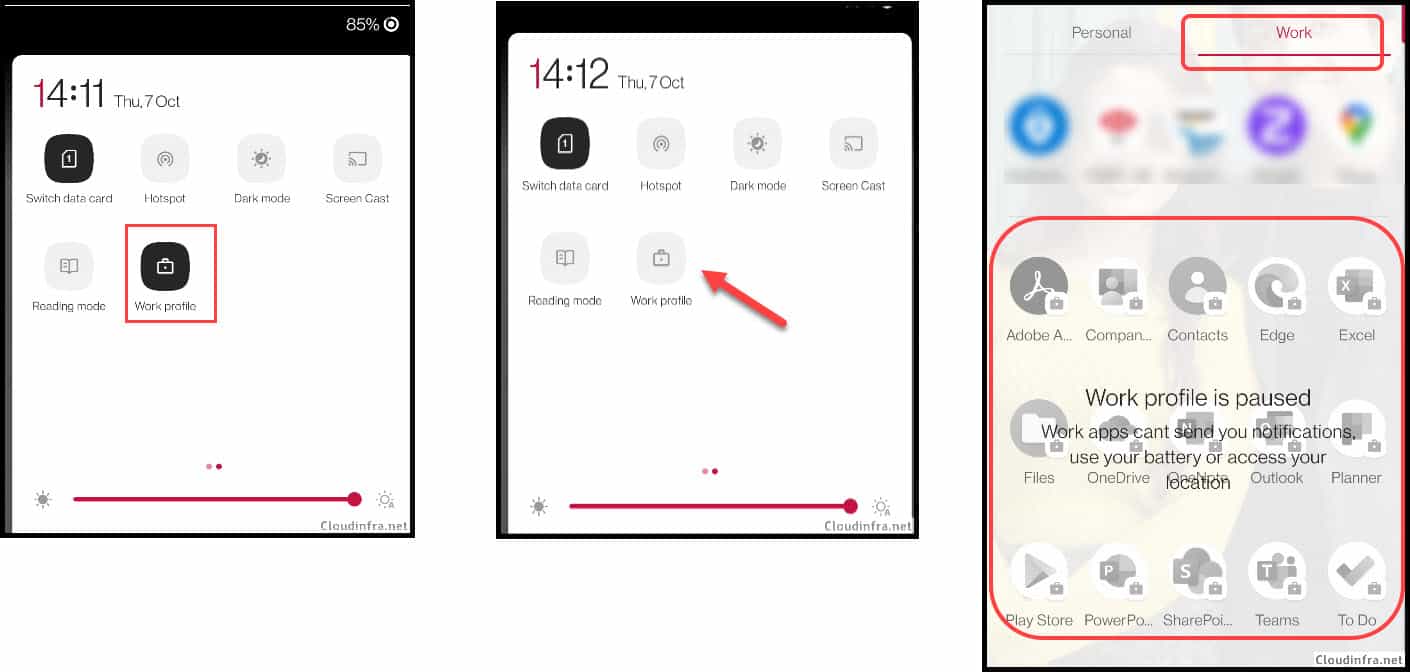 Another way to pause work profile on Android device is to Go to Settings -> Accounts -> Work Tab -> Work Profile settings -> Work Profile -> From here you can turn off the work profile which will result in Pausing your Android Work Profile.
How to remove Work Profile on Android device
To remove Work Profile from Android Phone, Please follow below steps:
Go to Settings -> Accounts -> Work Tab -> Remove Work Profile -> Click on Delete.
Please note this will only delete company apps and data along with company portal app and your personal apps and data will not be affected by removing work profile.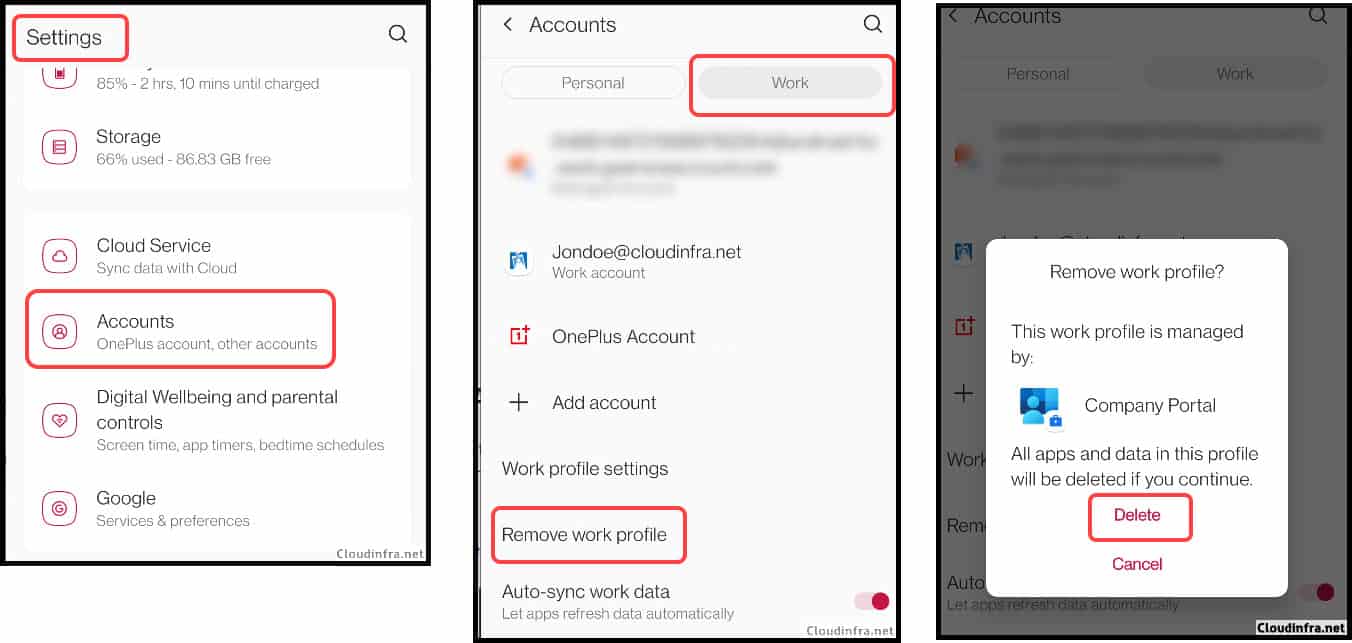 Conclusion
In this blog post we have seen how to setup Android work profile, how to pause and remove work profile on Android device. For setting up Android Enrollment you can follow the blog post: Configure Android Enrollment On Intune Admin Center.