Web content filtering is a part of web protection capabilities in Microsoft defender for Endpoint and Microsoft Defender for business. Web content filtering can be used to track and manage the access to websites based on various content categories. The policies can be applied to either all devices or group of devices. Its also available on all the major web browsers as well. Blocking a website if performed by Windows Defender SmartScreen for Microsoft Edge Browser and Network Protection is used for other third party browsers e.g. Google Chrome.
License Requirements
There are below License requirements for using Web content filtering: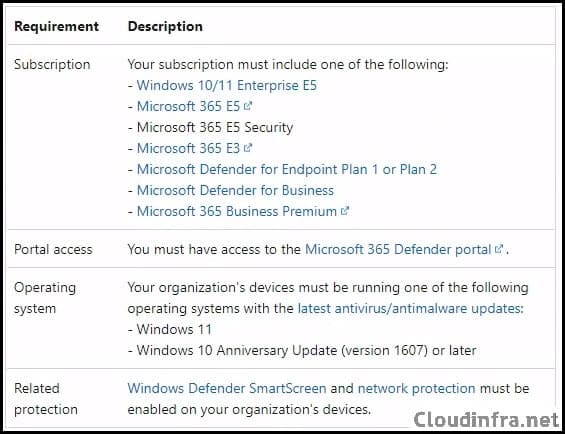 Enable Web Content Filtering
Before you can whitelist a URL or domain, you will need to Enable Web Content Filtering from Microsoft 365 defender portal. You can login on this portal as a Security Administrator or Global Administrator role and follow below steps to Enable Web Content Filtering.
After you login on the Microsoft 365 Defender portal:
Scroll to the end of the page to find Settings on the left hand side.
From the Settings page, Click on Endpoints.
Under General, Select Advanced features.
Find Web Content Filtering and toggle the switch to ON.

Whitelist a URL or domain
If you want to block the whole category of websites for example Social Networking or High Bandwidth Sites. You can create a Policy from Settings -> Endpoints -> Web Content Filtering and then Click on + Add Item to create a Policy.
However, if you just want to whitelist a single URL or a domain then you can follow below steps to whitelist a website or domain in office 365 / Microsoft 365.
Login on Microsoft 365 defender portal.
Go to Settings and then click on Endpoints.
On the Left hand side find Indicators.
Find URLs/Domains from the list of Indicators.
Click on + Add item to add a URL or Domain.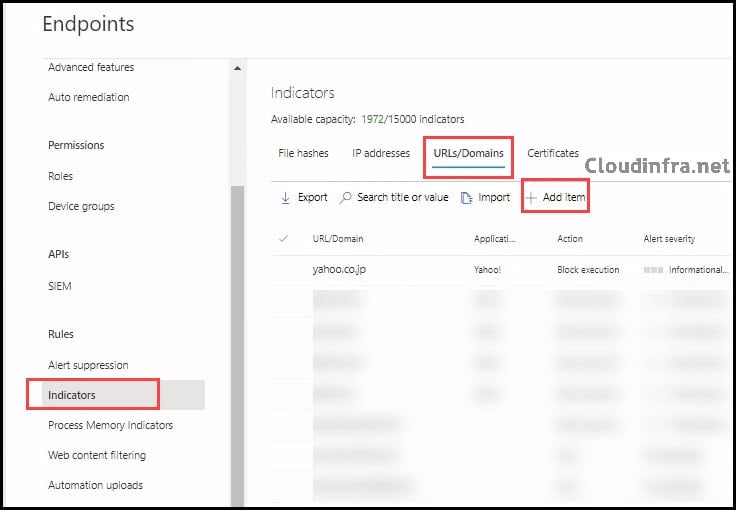 After clicking on Add Item you will see a flyout to fill in the information about the website which you want to whitelist. You can either provide a URL of the website or you can provide a domain name. You can set the Expiry date for this rule as well.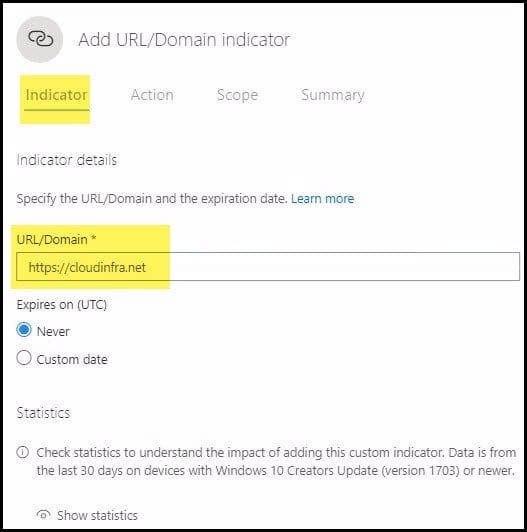 From the Action tab, Select Allow to whitelist this website. Provide a Title and Description of this rule. There are other options as well like Audit, Warn and Block execution. If you would want to block the website access then select Block execution. If you want to allow a website with a warning message and also for few hours then use Warn option.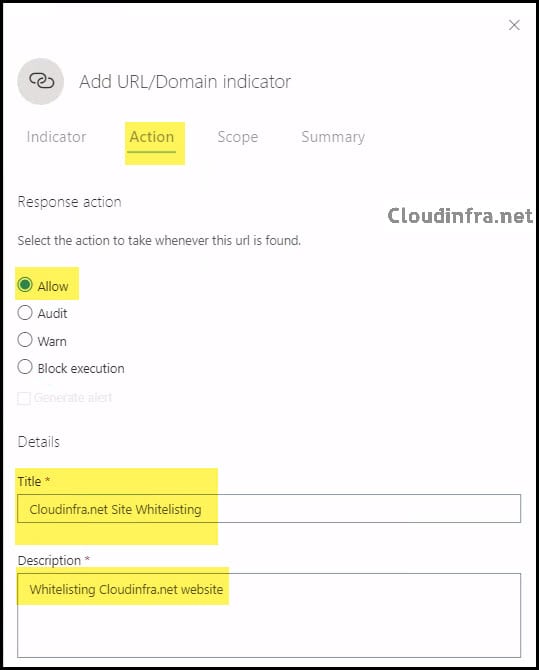 You can apply this rule to either All devices in my organization or Selected devices. Before you select "Select from List". Make sure to create a device group first before you can select it from the drop down. To create a device group, you can Go to Settings > Endpoints > Permissions > Device groups.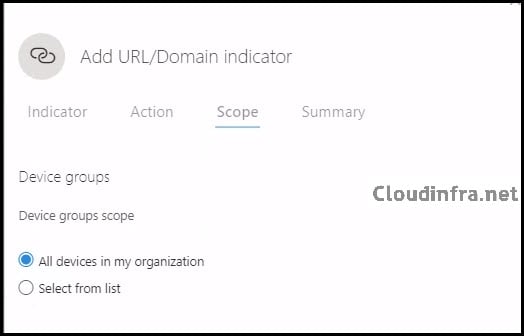 Summary page just shows the summary of the form we completed to whitelist the website. Verify if this information is correct and click on Save.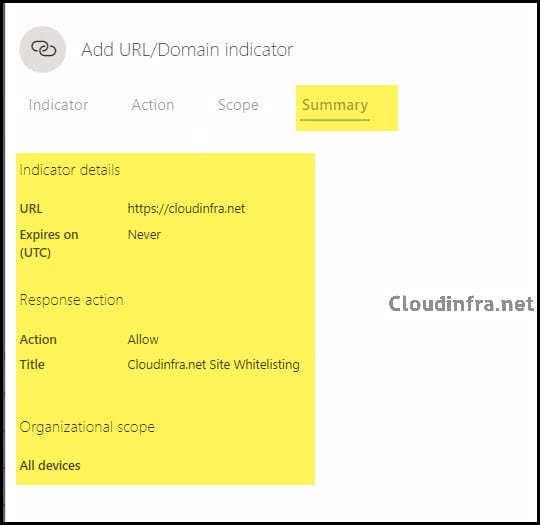 Conclusion
Web filtering is a must have tool for any organization to filter unnecessary web traffic and secure your environment and improve productivity. You can block a lot of in-built categories using Microsoft 365 defender Portal. However, if some of the sites are being caught in those broad categories and you want to allow those websites then you can also whitelist the websites individually. If you use Microsoft Edge browser the website block message will have more information that any other third party browsers. Let's see how the block messages look.
Website Block Message when website is accessed using Microsoft Edge Browser.
This content is blocked
For your protection, your organization is not allowing you to access the resource or content hosted by gmail.com. To learn more about why you're seeing this message or to get in touch with your administrator, visit the support page.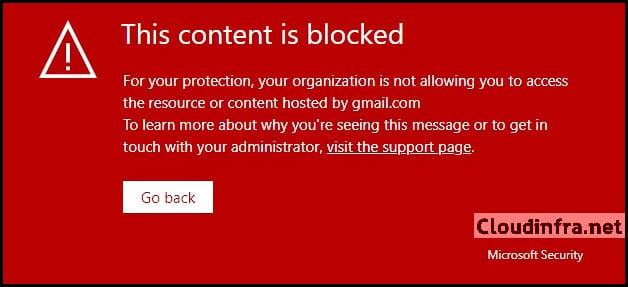 Google Chrome Website Block message.
This site can't provide a secure connection. Gmail.com uses an unsupported protocol. ERR_SSL_VERSION_OR_CIPHER_MISMATCH.